In many medium-sized companies, a specific sequence is typically followed when procuring and implementing major investment projects or developing new products. Management, Engineering, and Production define specifications and budgets early on. Occasionally, potential suppliers are also involved, technical adjustments are discussed and initial negotiations are conducted before Procurement finally comes into play to negotiate the best terms. This common approach can significantly complicate the negotiating position of the procurement department.
Users have already clarified everything
In many cases, users are well acquainted with new technologies and processes, as they work with the corresponding equipment or products on a daily basis. However, when engineering or users establish early contact with potential suppliers without involving Procurement, it provides an optimal entry point for these suppliers. Here, they can already establish their supplier-specific strengths as minimum requirements in the "requirements phase," and often, the product and specification names of the supplier are even integrated into the general requirements catalog.
The sooner, the better
A smarter approach is to involve Procurement early, as they possess the best methods for achieving competitive terms. As a neutral interface, Procurement departments record the necessary and desired requirements together with the business departments and users and contact the first suppliers. Meanwhile, Procurement analyzes the supplier landscape and, in parallel, prepares the tender documents in close coordination with the business departments and users. This round of re-alignment leads to the final validation of requirements and better integration of users. Interested suppliers are invited to submit offers, and the most promising suppliers are invited to an introductory meeting or direct negotiations. This approach usually results in significantly better terms.
Identifying and capitalizing on condition differences early
The condition differences that arise from late involvement of procurement are often overlooked within the organization. But how can these potentials be identified and utilized early?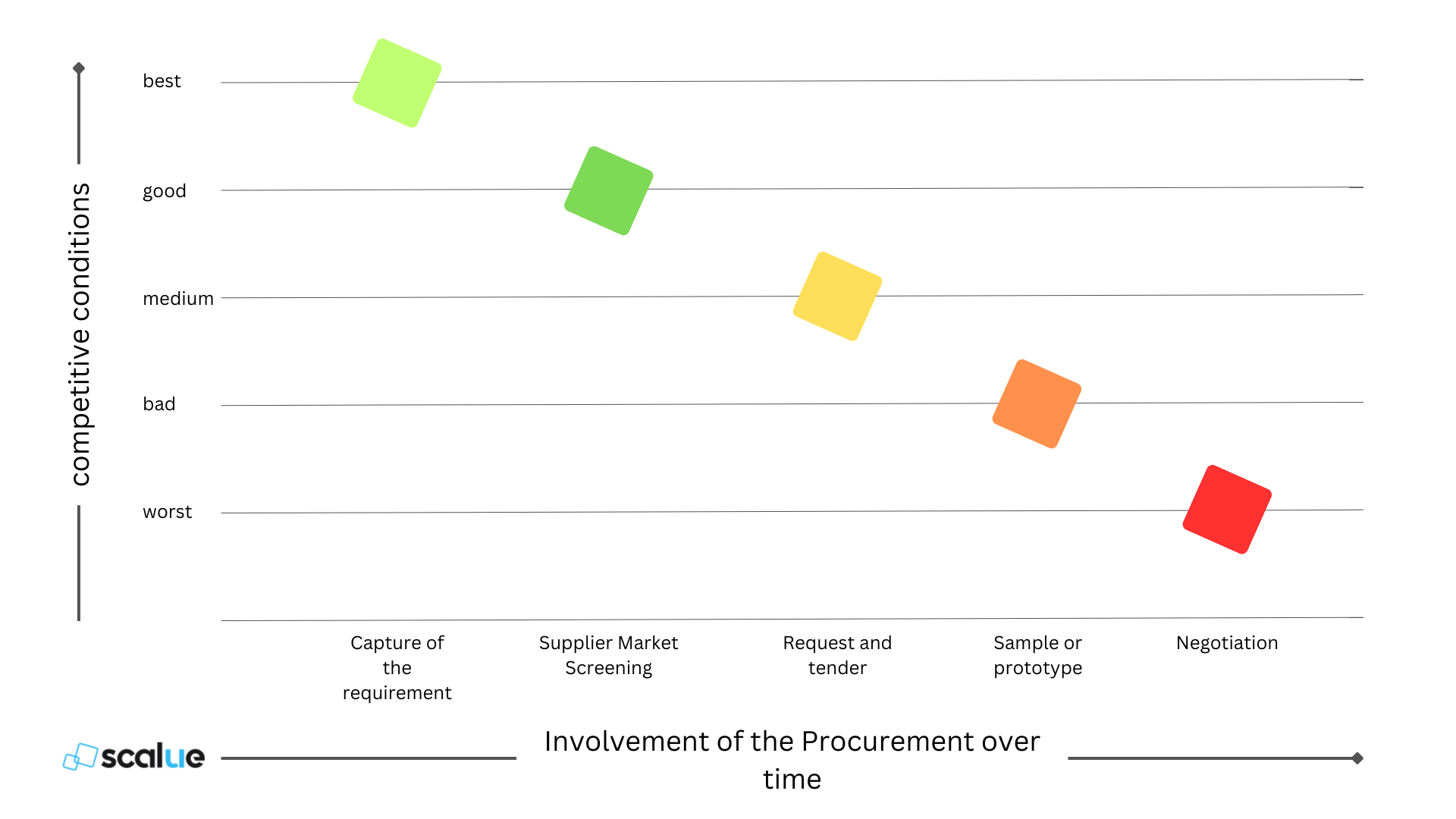 To visualize these potentials, we recommend using a representation as shown above. This allows for an assessment of past projects and demonstrates how potential savings can be realized.
Unlocking savings potential
But there are even more ways to leverage the savings potential through your procurement department. With SCALUE's solutions, your procurement managers gain more transparency, efficiency, and a stronger negotiating position.
Whether with SCALUE Essentials, which provides your procurement with the ideal starting point to capture procurement data more transparently and gain initial insights. Functions such as ABC analysis at supplier, item and material group level as well as supplier evaluations and price developments help your procurement manager to better categorize the data and gain a comprehensive understanding of the procurement volume.
Or with SCALUE Advanced, which focuses on capturing procurement initiatives and enables detailed tracking of actions to reduce costs, improve supplier performance and increase efficiency. You can measure your procurement department's contribution to overall strategy, identify areas for improvement, and make informed decisions for the future.
Furthermore, SCALUE Excellence goes one step further and provides automated process analysis for the entire purchase-to-pay process. It enables the optimization of the procurement process from order to payment and the identification of process weaknesses and inefficiencies. This enables your company to streamline procurement processes, reduce process costs, and increase efficiency in a measurable and sustainable way.

How SCALUE can help you? Schedule a free demo now!
Learn more on our blog: Get More Insights
Follow us on LinkedIn: Get more Content