The procurement process plays a crucial role in the success of your company. In an increasingly competitive business world, efficient procurement processes are critical to gaining competitive advantage and optimizing costs. In this blog article, we will look at how your company can effectively optimize the procurement process by using a procurement analytics solution, such as SCALUE.
Challenges regarding procurement efficiencies
The procurement department plays a critical role in procuring goods and services needed for business operations. However, procurement managers often face a variety of challenges that can impact their efficiency. Manual and time-consuming processes, long cycle times, and potential data quality issues can lead to significant challenges that impact procurement efficiency and overall productivity.
Manual processes and high workload:
In many companies, procurement processes are still performed manually. Procurement managers are faced with a multitude of tasks, including manually entering orders, reviewing supplier quotations and managing contracts, as well as analyzing the given data. These manual processes are not only time-consuming, but also error-prone, which can lead to delays and inefficiencies. To increase procurement efficiency, automation of these processes is essential.
Long lead times:
Long lead times in the sourcing process can lead to delays in the procurement of goods and services. This can have a negative impact on operational performance and customer satisfaction. The causes of long lead times can be manifold, such as inefficient communication with suppliers, lengthy approval processes or unclear responsibilities. It is important to identify and eliminate these bottlenecks to speed up procurement processes.
Data quality issues:
Poor data quality can lead to inaccurate analysis and decision-making. Incomplete or outdated data can compromise the basis for procurement decisions and lead to incorrect forecasts. However, a consistent and accurate database is critical to making informed procurement decisions.
Solution through Procurement Analytics
To overcome these challenges and increase procurement efficiency, the Procurement Analytics SaaS SCALUE offers a comprehensive solution. SCALUE helps procurement managers make the procurement process more efficient and make informed decisions based on data analytics.
Analysis Automation:
SCALUE enables procurement managers not only to use standard analyses, but also to independently create and save specific analyses and evaluations. This enables automated and faster execution. This, in turn, means that procurement managers no longer need to manually collect and analyze data, but can access predefined reports and dashboards. By automating analytics, procurement metrics can be tracked and weaknesses in the procurement process can be identified quickly AND efficiently.
Would you like to learn more about how SCALUE's solution can help optimize your procurement?
Single Point of Source:
SCALUE uses, as a single point of source, the existing data from the ERP system(s). This gives procurement managers an immediate overview of relevant information such as orders, costs and delivery times. The single source of data enables faster information processing and better decision making, which has a positive impact on lead times. The analysis of procurement patterns and supplier performance helps your procurement experts to identify potential bottlenecks at an early stage and take appropriate action.
Improving data quality:
By leveraging a central database and ensuring data consistency, SCALUE helps identify data quality issues immediately so that action can be taken to improve quality. By continuously improving data quality, procurement managers can make more informed decisions with more reliable information, which helps improve efficiency and control of the procurement department by eliminating the need to "clean" data before performing analysis, allowing the procurement manager to get started immediately.
Despite initially poor data quality from some of our customers, valuable insights were gained using SCALUE. While the results were limited at the beginning due to data quality, they were still significant. After a few weeks, the solution successfully identified weaknesses such as supplier duplicates, missing/incorrect allocations of spend to commodity groups, and maintenance of cash discount rates to calculate cash discount losses and delivery performance, resulting in valuable insights. In summary, data quality has measurably and significantly improved over a 6-12 month period as structures have been harmonized. So if you are concerned that poor data quality will limit your use of SCALUE, we would like to convince you otherwise, as we have achieved valuable results despite such challenges.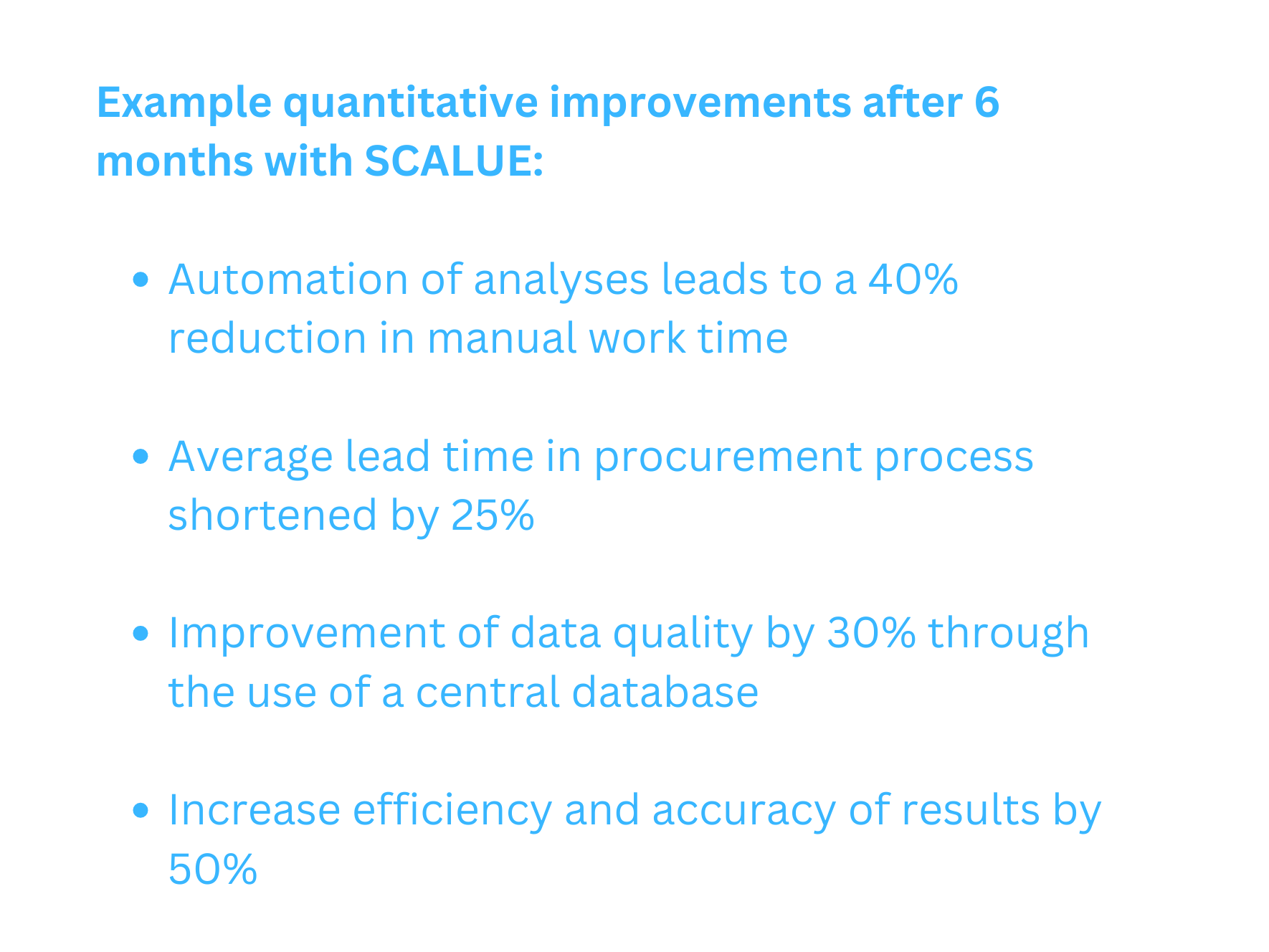 Conclusion
Increasing efficiency in the procurement process is of great importance. However, challenges related to manual processes, long lead times, and data quality issues can negatively impact productivity and competitiveness. Using a procurement analytics solution like SCALUE can overcome these challenges. SCALUE allows procurement managers to store certain analytics and create some form of automation, making the procurement process more efficient. The use of single point of source in SCALUE provides procurement managers with an instant view of relevant information and reduces cycle times. In addition, the improved data quality helps to make informed decisions and minimize errors.
Overall, the use of procurement analytics is an important step for your company to optimize your procurement processes and increase efficiency. The return on investment (ROI) in such a solution as SCALUE is proven to pay off within the first 6 months of use and impacts communication and visibility for the entire organization.
How SCALUE can help you? Schedule a free demo now!
Learn more on our blog: Get More Insights
Follow us on LinkedIn: Get more Content