On September 21. & 22.2023 DIGITAL X 2023 has taken place in Cologne. It was an exciting journey for us at SCALUE, and we look forward to sharing our impressions with you. As exhibitors, we had the opportunity to engage with industry peers, have inspiring conversations, and showcase our procurement transparency solution. Below are some facts and insights, along with a behind-the-scenes look:
Attendance Numbers
Our booth was certainly a hotspot, and we are proud that many decision-makers, including CEOs, IT directors, and procurement managers, found their way to us. Engaging with our target audience in strategic procurement was a real highlight.
What Did We Discuss? - We can sum it up in two words: procurement transparency. This topic attracted visitors like a magnet, leading to lively discussions and the presentation of straightforward solutions.
Highlights for SCALUE
A true highlight was when the Telekom team brought their customers directly to our booth. This attention led to many more conversations. Furthermore, Telekom connected us with potential customers who were not even at the event. Networking at its finest!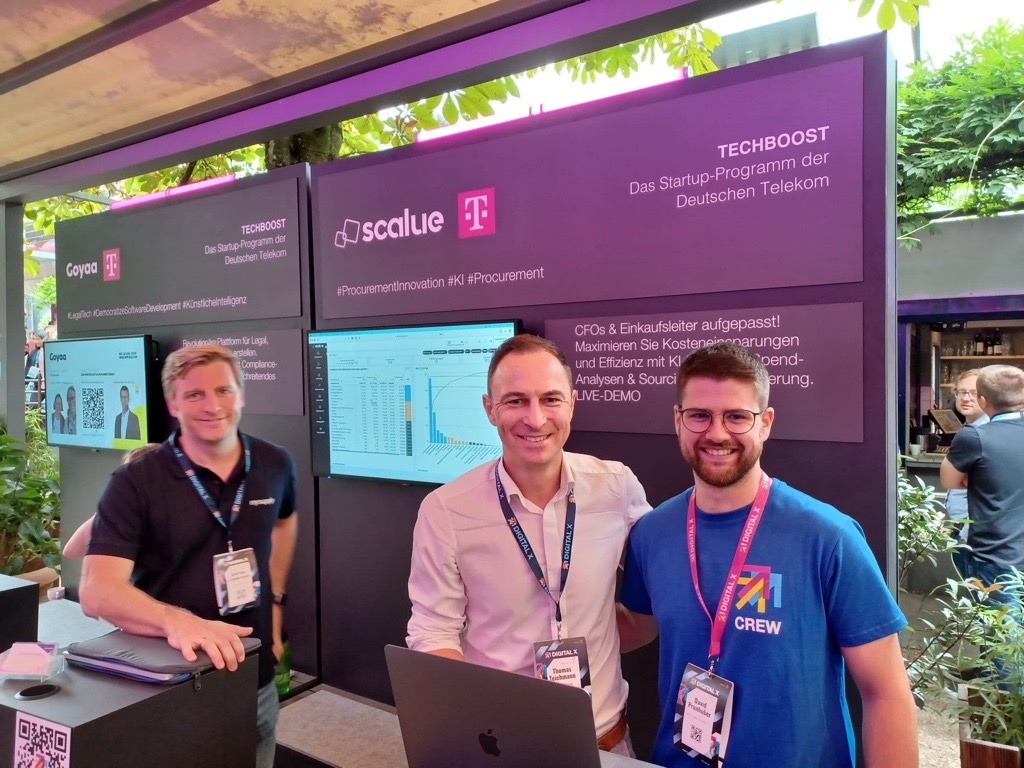 Andreas Zimmermann from mysupply, Thomas Teichmann from SCALUE and David Prunhuber from TELEKOM
Our collaboration with mySupply
Our collaboration with mySupply, represented by Andreas Zimmermann, went extremely smoothly. We exchanged ideas and information, passing the ball back and forth. Unfortunately, due to a misunderstanding during preparations, the mysupply logo was missing from the booth. But we wouldn't be us if we didn't have the perfect solution ready. A few clicks later, both presentations appeared on the big screen.
Leads and Return on Investment (ROI)
Our efforts paid off - we generated approximately 25 concrete leads. These potential customers promise exciting opportunities for the future, and the event was definitely worthwhile.
On-Site Communication with TechBoost
As Telekom TechBoost partners, we are particularly pleased that on-site coordination and communication went absolutely smoothly. We also had direct exchanges with the Head of Sales, Key Account Managers, and even the CFO of Telekom. What we want to emphasize:
Telekom invited exactly our target audience to the event, and that made all the difference. Additionally, we had the best booth location, right at the main thoroughfare, which garnered us a lot of attention.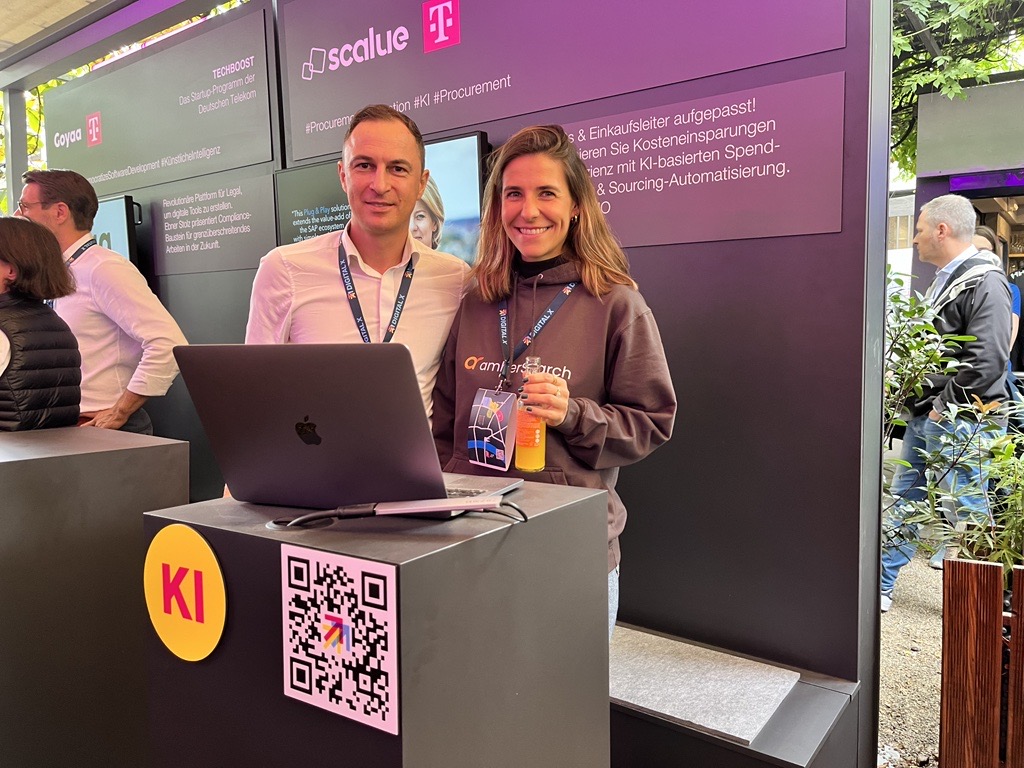 Thomas Teichmann (SCALUE) and Judith Krüger from amberSearch
Our Conclusion
In conclusion, we can say that DIGITAL X 2023 was a resounding success for SCALUE. With over 50,000 attendees from 43 countries, 7,000 participants in the stream, and a wealth of exciting activities, it was an event that will stay in our memories for a long time. We are already looking forward to next year and plan to have an even stronger presence. It was undoubtedly a highly successful event!
We would like to express our heartfelt thanks to our esteemed partners, including Telekom, and everyone who contributed to achieving this success. Your support and collaboration are the key to our continued growth and success.

How SCALUE can help you? Schedule a free demo now!
Learn more on our blog: Get More Insights
Follow us on LinkedIn: Get more Content